A recent article in the New York Times made me pause in the middle of my stride in life.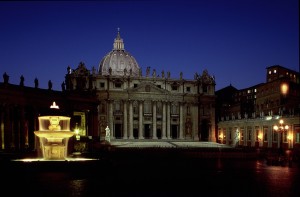 The article, titled Catholic Clergy Protest Pope's Visit and Its Price Tag, stated that the Catholic Church was getting ready for a lavish $72 million celebration in Madrid. $72 million dollars. The country hopes to recoup part of that money from the many visitors that attend the event. Unfortunately, as in the past, the people who are upset about the lavishness of this celebration know that they will never know the true cost of this event.
At first, I too was appalled at the amount being spent for a visit by the Pope, especially in the times that we live in with people dying in Somalia, the U.S. having 1 in 5 children living in poverty, etc.
But then I glance inwards. I am not as frugal as I should be. I still head to a coffeehouse for a good cup of hot chocolate and pastry. Yes, I do contribute in helping with spreading the Word of Jesus throughout the world and with local food banks.
But I could do more. We could always do more.
So, although I agree with the priests who are protesting the amount of money spent on this event, I believe the world right around me needs some correction also.