Day 3 (continued)
After having breakfast at the Village Cafe in Egg Harbor, we headed over to the eastern part of the peninsula to the Whitefish Dunes State Park.
Another beautiful day meant that the drive was relaxing and peaceful. The entrance fee for one day was $10. Once that was paid, we put drinks in our backpack and headed to the Red Trail which was recommended to us by the park ranger.
We decided to start our walk on the beach with a beautiful view of Lake Michigan.
The sound of the waves lapping up on the shore — well, what can I say? I enjoy being around water. It brings great peace to my soul.
It's been a long time since I've seen a sky so blue and crisp. The smell of the water and the blue sky — perfection!
The Red Trail is an hour long walk. From the beach, we took a boardwalk for a little ways to an observation deck.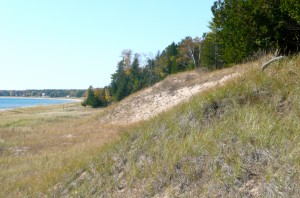 It was a long way up but well worth the walk as we were able to see the lake and the valley view from the platform.
The rest of the walk on the Red Trail was very pretty. Some of the trail was tree-lined while other parts were open fields.
At the end of the trail a big sign warned of poison ivy and pointed down to where we could see what it looked like.
The ranger came over and explained to us that the oil on the plant is what causes the skin to react with itchiness. Even when the plant has no leaves, the root and the berries of the plant can still cause an allergic reaction.
We took a little longer than an hour for our walk since the day was so beautiful.
In the afternoon we went to the Cherry Hut for a couple of pieces of cherry pie. For dinner, we went to Cooper's Corner in Fish Creek. Swimming in the evening completed our day.
Time for a good night's sleep.