Last year I spent a lot of time removing the grass from the front yard as the grass was not healthy and quite patchy in spots. We also didn't want to have to mow a small bit of grass.
I've now finished my spring cleaning of this area by removing most of the leaves and debris that fell during our spring storms. Now it's time to landscape and I'm having a wee bit of a problem visualizing what I want done. Truth be told, I'd like to have a very simple perennial shade garden with some spots of color — kind've Japanese style but with no pond although we have a drain in this area.
The two two-by-fours you see are lying across the drain and the area slopes too far down. I'd like to make a Japanese type bridge that will cross this drain, 4-5 feet long, but the area seems too low and I feel I need to regrade it somehow. Otherwise I'd have to have a pretty large bridge that will reach from one side to the other and I think it will be out of proportion to the yard.
I'm wondering if I can bring in some cement blocks (like the ones on the front of the house in the picture below) then add more dirt to make the ground higher and add more rock. I'm just not sure if that will make it stable enough.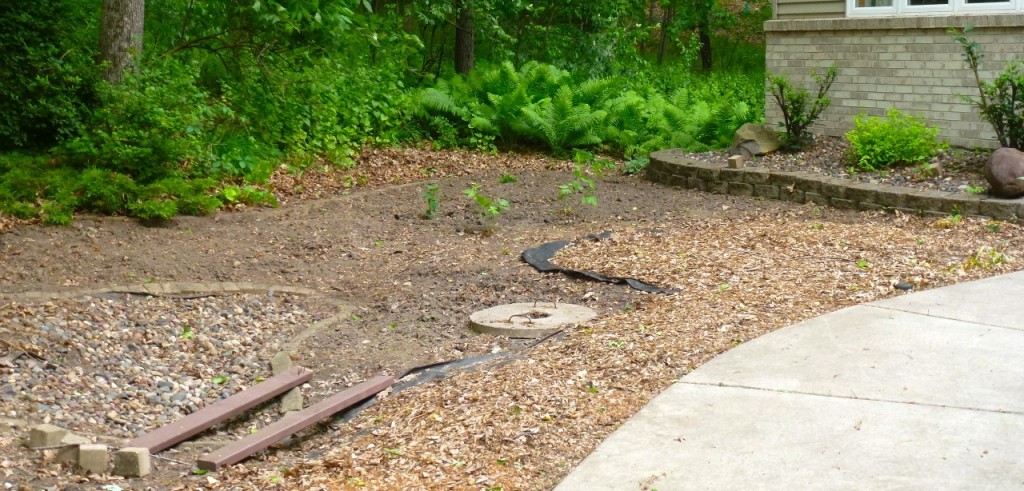 On the positive side, I have found quite a few places that have Japanese bridge kits that I can purchase and have my husband build for me. I could do it myself but as I tell my husband "there are some things that men should do." I tell him this, not because I think women can't do certain jobs, but as incentive to have him help. Â (laughing) Â Hey! It usually works!
Any thoughts out there?
I'm hoping to put in a couple of small trees that will be deer resistent and shade tolerant  along with a few other perennial plants so all I have to worry about is leaf/debris cleaning next spring. I hear there is a nursery called Gerten's in Inver Grove Heights that I can get a lot of my plants from. I'm hoping to make a trip there sometime soon.
[amazon_link id="B003DVV2KK" target="_blank" container="" container_class="" ]
[/amazon_link]