Our anniversary brought us to the Brainerd, Minnesota area for a quick getaway. Brrrr .. it is cold in winter here. Of course, we were hoping that we would have springlike weather but that didn't occur so … it is what it is.
We arrived at a resort called Kavanaugh's which is about a 2.5 hour drive from the Minneapolis area. My son had bought us a 4 day/3 night stay for Christmas at this resort through LivingSocial.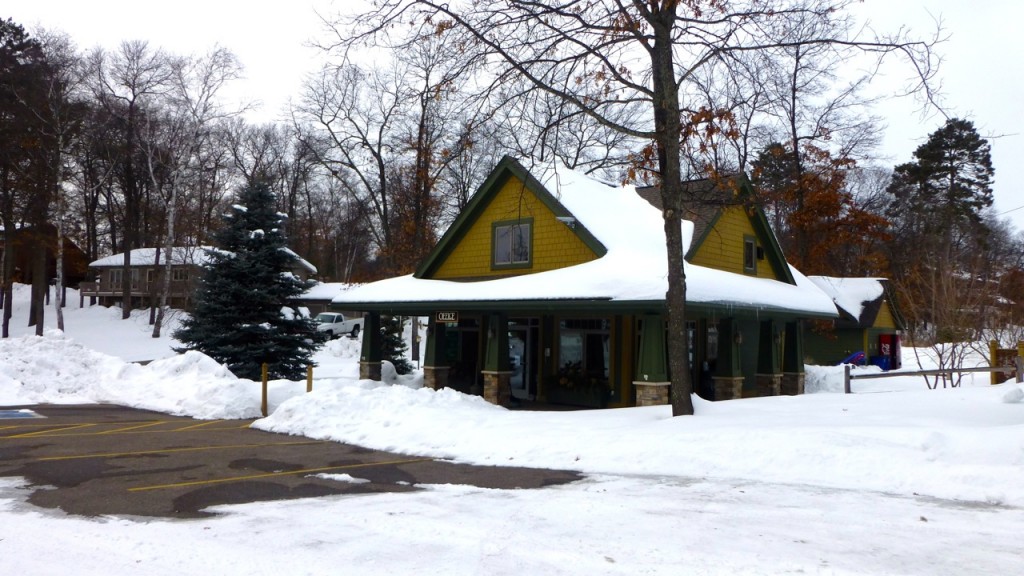 We were greeted warmly by the office staff, given our key then we proceeded to check out our room which is considered a "pool suite." The room has one bedroom with two double beds and a living room. It can sleep up to 6 people — four in the bedroom and two on the sleeper sofa in the living room.
After settling in, we headed out to see where the indoor swimming pool was. We went around this building where the laundromat is to enter through an unlocked door to get inside.
For those who can't miss a day without working out, there is a separate fitness/exercise room right off the swimming pool area.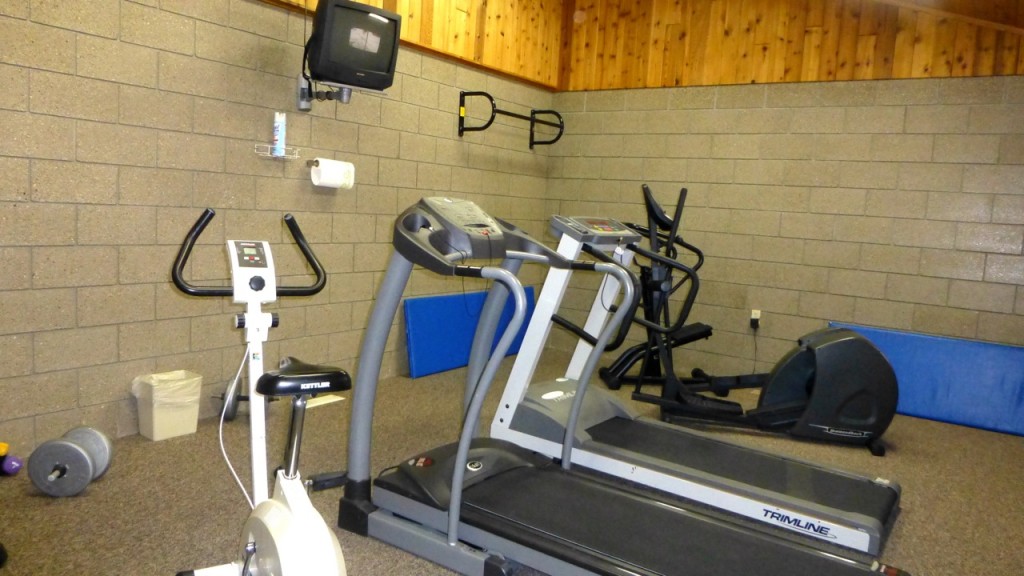 There is also an arcade room where you can play pool (at a small cost, of course) and other games. I'm sure this room is full in the summer time when there are lots of children around.
The outdoor pool was full of snow. We wouldn't have used it anyway with the blustery type winds that were blowing and the cold temperatures.
Then it was dinner time so we went to one of the restaurants that was recommended by the staff called Jake's City Grille.
When we arrived there were four snowmobiles in the parking lot. In this area we saw many people using snowmobiles to get around.
The inside of the restaurant has a bar to the left and the dining room to the right which is where we were seated. It's very spacious and I'll bet it's full in the summer time.
Since we came here on St. Patrick's Day, March 17th, we weren't surprised that their special was Corned Beef, Cabbage, Potatoes and Vegetables. My husband decided to have their special. He said it tasted pretty good.
I'm beginning to wonder if 1) I am a picky eater or 2) I'm being tested with patience. I say this because I ordered the Herbed Chicken with Garlic Mashed Potatoes that also came with vegetables and I was disappointed.
The chicken was dry and the mashed potatoes were hard (if  only they had added a wee bit of water to them).  Well, at least the vegetables were good.
The following day we slept in knowing that we wouldn't be able to get out early because it had snowed the night before. Some roads were closed although not the ones around us.
The staff cleared the snow from the front area of our door and around our car. Once that was done we headed out to explore the small town of Nisswa, Minnesota.
Nisswa (prounounced "niss" as in the word "miss") is a town of approximately 2000 people. Downtown Nisswa is small but quaint.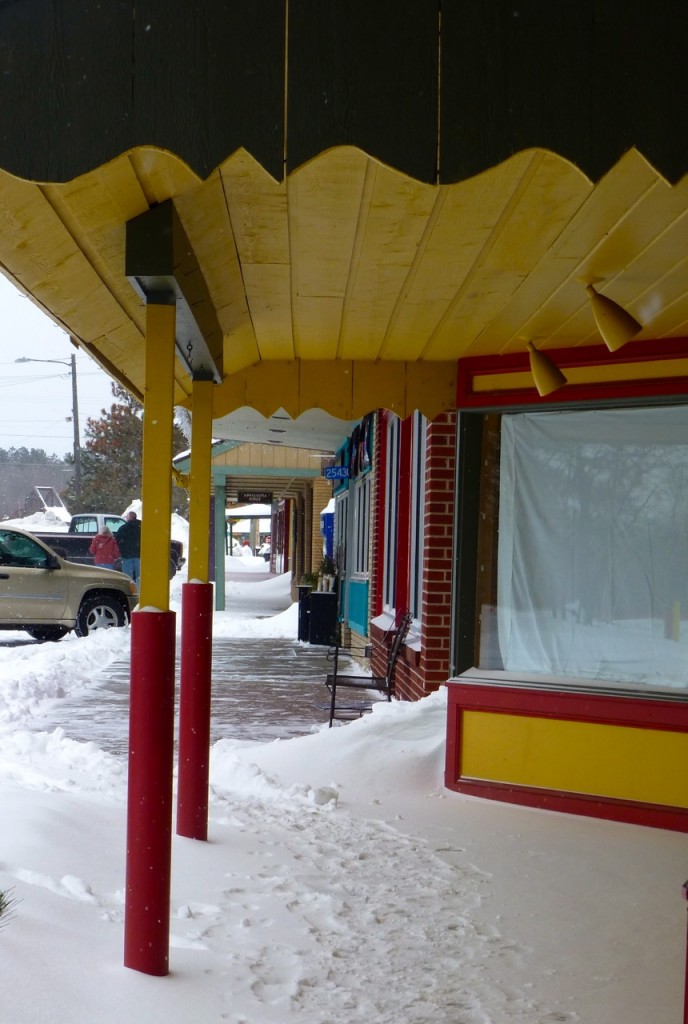 We headed into the local bookstore called Turtle Town Books & Gifts which had quite a collection of books and children's toys/gifts.
Afterwards we ducked into the local coffeeshop, Adirondack Coffee, for coffee, hot chocolate, tomato soup and an almond croissant. The croissant was hard as a rock so we asked the staff to warm it up for us. It was okay but definitely not fresh. The tomato soup, on the other hand, was delicious!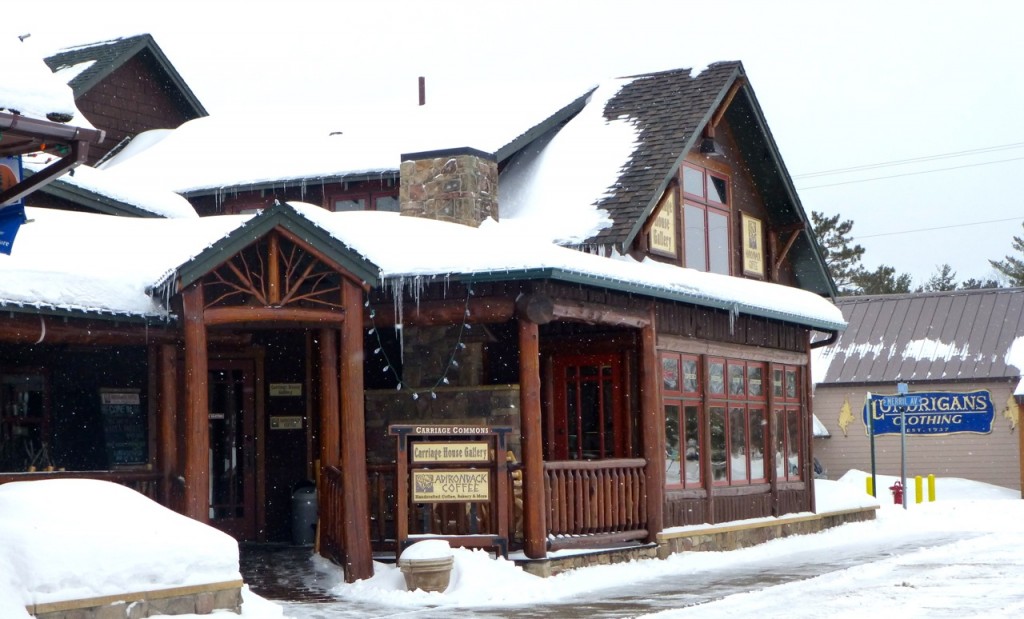 Afterwards we drove home in quite blustery weather with snow blowing onto the road. I was glad that my husband was at the wheel and not me.
After breakfast the next day, we headed to Brainerd where we went "antiquing." Although there are a few antique stores in the area, some of them were closed and not many people were out as it was still a down-to-the-bone type of cold so we didn't spend too much time outdoors.
Our afternoon was nice and lazy … reading and watching television.
Dinner our second night was at a restaurant on Gull Lake called Ernie's.
I found the sign below quite interesting but, no, I don't think I want to drive across this road to get to the other side, although a few snowmobilers drove up to Ernie's for dinner.
The restaurant was not crowded although there were a few people at the bar which is separate from the dining room.
Service was great! Our waitress was attentive but not annoyingly so. My husband ordered the steak which he said was very good.
I tried the fish and chips with an order of onion rings. Unfortunately, I only ate two of the battered fish as they were too greasy for me. My body is not used to so much grease now that I'm eating a paleo diet.
Looking out the restaurant window, there was a huge icicle hanging outside. (The picture was taken through the glass window.)
Gull Lake is one of the largest lakes in the Brainerd, Minnesota area. It is also one of the most popular from what I hear. Kavanaugh's (the resort where we stayed at) is one of approximately 19 resorts that are on Gull Lake and there are approximately 27.8 homes for each shoreline mile. I can only imagine how busy it is in the summer time.
This really is a pretty area and we need to return sometime when it's warmer.
Here are some pictures of the drive back home.
No doubt about it — there is beauty in Minnesota in winter.