Kung Pao chicken is one of my favorite dishes. Have you ever tried it?
Normally found on Chinese restaurant menus, I was surprised when I found it on the menu of a local Thai restaurant.
But, I digress.
This recipe is so easy to make it will take you no time at all. I found the original recipe in the book Cooking Light but I adapted it to paleo-ize it.
Here it is for you to try ~
Ingredients
2

tablespoons dark sesame oil

1

cup chopped onion

2

garlic cloves, minced

1

pound skinless, boneless chicken thighs, cut into 1-inch pieces

3/4

cup water

3

tablespoons amino acids

2

teaspoons tapioca powder

1

teaspoon pure maple syrup

1/2

teaspoon minced ginger

1

teaspoon crushed red pepper

1

cup thinly sliced red bell pepper
Fresh basil leaves

2

tablespoons chopped, unsalted, cashews
Directions
In a large skillet over low to medium heat, add the sesame oil and allow it to heat through.

Add the onion and stir until softened.

Add the garlic and blend with the onion, stirring, for approximately 1 minute.

Add the chicken and mix with the garlic and onion until it's browned.

In a bowl, combine the water, amino acids, tapioca powder, pure maple syrup, minced ginger and the crushed red pepper and stir it together with a whisk.

Add the water mixture to the skillet and bring this to a boil.

Add the bell pepper and cook for approximately 2 minutes.

Allow the sauce to thicken then add 1 tablespoon of the cashews to the mixture.
Remove from the stove top then add the fresh basil on top along with the rest of the cashews.
I served this Paleo Kung Pao Chicken with a baked sweet potato and a slice or orange which helps cleanse the palette.
Enjoy!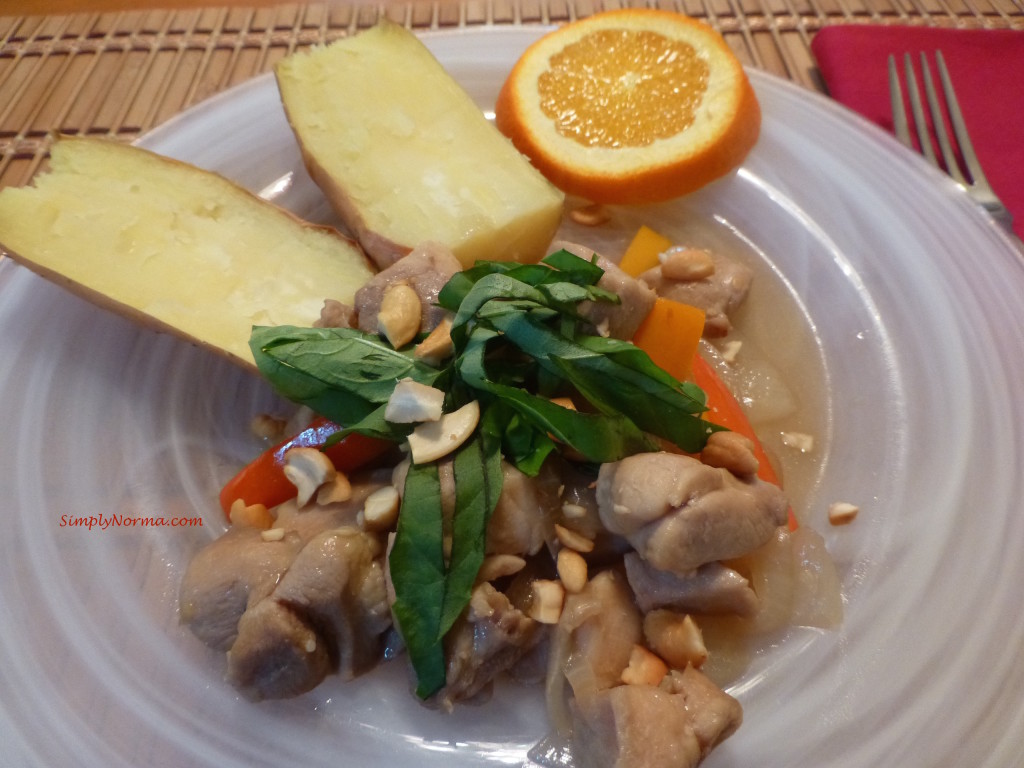 For additional paleo recipes, click here.