I found a delicious recipe for apple muffins. Moist muffins — yum.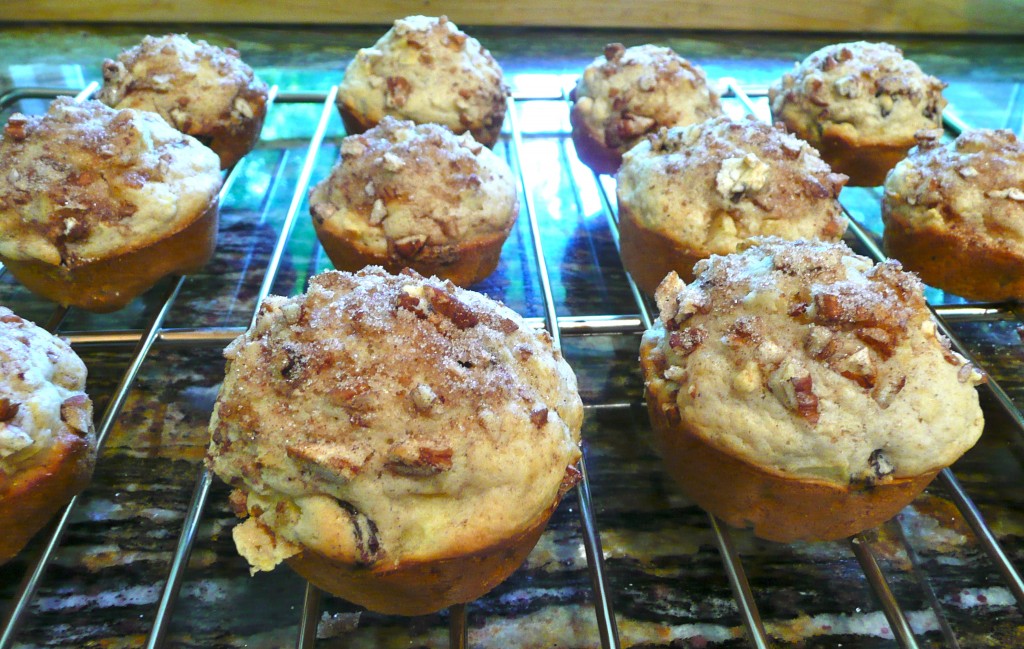 Ingredients
1 1/2 cups flour
2 teaspoons baking powder
1/4 teaspoon baking soda
1/2 teaspoon salt
1/4 cup sugar
1/2 teaspoon cinnamon
1/4 teaspoon nutmeg
1/2 cup milk
1 tablespoon lemon juice
1 egg
4 tablespoons unsalted butter (melted and cooled)
1 1/2 cups apples, peeled and diced
1/2 cup raisins (I only add 1/4 cup)
1/4 cup pecans or walnuts (finely chopped)
1 tablespoon sugar
1/4 teaspoon cinnamon
Preheat oven to 400
Grease a 12-muffin tin
Melt butter, dice apples and cut up nuts if you'll be using them
Put raisins in hot water to plump them
In a large bowl, add the  milk and the lemon juice. Use a fork to quickly  mix it together and set it aside while mixing the dry ingredients
In a medium size bowl, add all the dry ingredients together and mix with a fork
Add the melted butter and egg to the milk mixture and whisk it all together
Add the dry ingredients to the milk mixture and stir until moistened
Add the apple and raisins to the milk mixture and stir
Spoon the batter into the muffin tin
Combine the topping ingredients in a small bowl and and sprinkle on top of the unbaked muffins
Bake muffins about 20 minutes. Using a fork, lightly touch the top of the muffin. If the muffin springs back then the muffins are done.
Transfer muffins to a cooling rack right away.
Enjoy!
Recipe found at http://www.food.com/recipe/jim-fobels-apple-muffins-178959