Having 5 trees felled, we had plenty of wood on the ground that we needed to have split so we could use it in our fireplace this winter.
I checked on Craigslist and found a young man who advertised splitting wood for $25 an hour. I thought that was more than fair so I contacted him and he came out and split the wood. A small bit of a problem occurred though when he came to get paid. He had brought a friend with him who helped him with the work. When he came to collect, he gave me the amount he wanted.
I was rather shocked as it was double what he had stated in the ad. I told him that was not the price in the ad. His response was "It's $25 per man." I explained that the ad didn't say that. He then started talking about how he worked in construction for awhile and this was the going rate, blah, blah, blah. I told him "Well, I don't work in construction so I wouldn't know that. I'm going by your ad which says $25 an hour. It says nothing about "per person."
Unfortunately, I paid him the amount. First, I felt it was fair. At $25 an hour for only him, it would have taken him double the time. The price included the wood splitter that he brought with him.
It was bittersweet. I was previously told that a cord of wood could be split in 20 minutes. They did 3 cords and it took them 3 1/2 hours. But they weren't lounging around. The hauling of the wood to the wood splitter (especially because the pieces were large) took a lot of work.
We bought a kit that we put together for him to load the wood onto. It worked very well.
It worked very well and sits about 7 feet from the side door to our garage.
So, we went from this —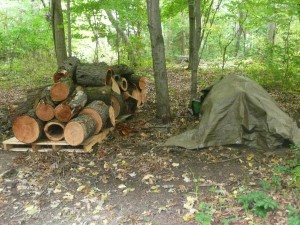 To this …
I also made my own wood pile rack. I'll post that at a future date.
[amazon_link id="B0000TPRD6″ target="_blank" container="" container_class="" ]
[/amazon_link]