Wow! This Orange Chicken recipe that I made is wonderful and will be on my "must have again" list. Served with a Cinnamon Fruit Salad, it fit the bill to satisfy an empty stomach. I imagine that one could make these vegetarian by using FriChik by Worthington (although I haven't made them that way yet).
I did have a "learning" moment while going through it so I'll share that with you later in this post. So — here goes!
And of course, the orange juice (without pulp)
Ingredients
1Â lb. chicken breast cut into bite size pieces
2Â eggs
1Â cup almond flour
Olive or coconut oil (I used olive)
For Orange Sauce
1/2Â cup freshly pressed orange juice
The zest of 1 orange
2Â tbsp. tapioca starch
1Â tbsp. coconut oil
2Â cloves garlic, minced
2Â tsp. fresh ginger, minced
1/8 tsp. crushed red peppers (more if you want it spicy)
1Â tbsp. fish sauce
1Â tsp. white wine vinegar
1Â tbsp. honey
2Â green onions, thinly sliced
Directions
In a small bowl, mix the orange juice with the tapioca starch and whisk until the starch is all dissolved. Set this aside.
To prepare the sauce, preheat 1 tbsp. coconut oil in a skillet over medium heat, add the garlic, ginger, crushed red peppers, and half of the orange zest. Cook until golden, about 1 minute.
Once the oil and spices are golden, add the fish sauce, the white wine vinegar, honey and cook about 10 seconds.
Add the orange juice/starch mixture to the skillet and bring to a boil, stirring constantly. Note: Be careful not to keep it on the burner too long or you'll get a really thick consistency which is what you don't want.
Reduce the heat and simmer for a minute or two. Remove the mixture from the heat, but leave it in the skillet.
Break the two eggs into a bowl and whisk them together.
Dunk each piece of chicken in the raw eggs and coat them with the almond flour.
Pour olive oil (or coconut depending on your preference) into a big skillet until it's about 1/2 an inch deep. Heat it to at least 365 F.
Add the pieces of chicken to the oil and cook until golden on each side, about 5 minutes.
Transfer the cooked chicken pieces to a paper towel for a few minutes then transfer them to a serving dish.
Once the chicken is fried, place the skillet containing the sauce back on medium heat and warm it up. When it's warm, pour it over the chicken pieces and mix to get them nicely coated with the sauce.
Garnish with the remaining orange zest and the sliced green onions.
This was really delicious. As I mentioned in direction #4, I did have a problem with the sauce but it was easily corrected thanks to the advice from my friend Kathy.
Here are a few pictures for your perusal …
So — this is what happens if you cook the orange sauce too long … quite "gummy."
I added a little bit of orange juice at a time to make the consistency pourable but still "thick." Like this …
Here's my "workstation." I had it to the right of the stovetop so I could "dunk" the chicken in the egg and flour and straight into the hot oil. Those eggs should be whisked!
The frying went well. I "eyeballed" when the chicken was done by how crispy it looked. See the ones I turned already in the picture? They were nice and browned and ready for turning.
And of course, the finished product. Â Oh, did I already say how delicious they were?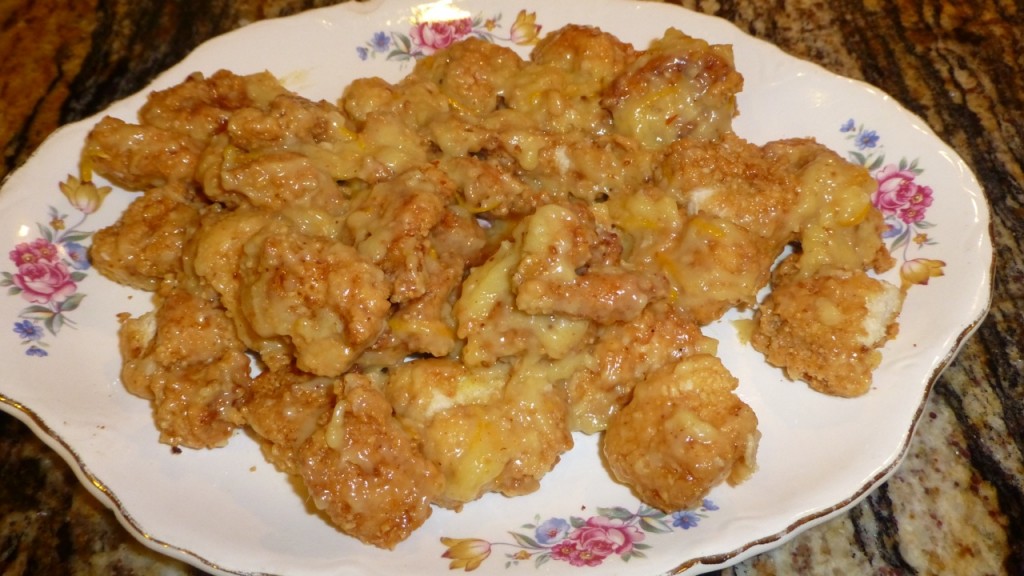 Yum! Very thankful to Paleo Diet Lifestyle for this recipe.
[amazon_link id="B000BF3AJ2″ target="_blank" container="" container_class="" ]
[/amazon_link]