Occasionally, one of the people I follow on blogs will put a recipe on their site that I think sounds interesting. This one I liked because it has lentils in it.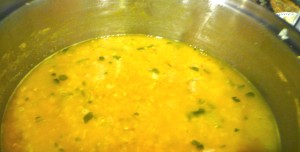 Finding red lentils in the Woodbury, MN area was not easy. I finally found them at a store called Kowalski's. However, they were over $6. These are lentils that I won't be wasting.
Hope you enjoy making the recipe. I took the liberty of doubling and spicing down the recipe so it will not match the original one.
Ingredients
3 tablespoon canola oil*
1 teaspoon cumin seeds
1/2 jalapeno sliced, seeds out*
1 small onion, diced
4 tablespoons garlic/ginger paste (or you can do 2 of each and mince your own)
2 cups red lentils
1 1/2 teaspoons ground turmeric
4 tablespoons dried fenugreek (original recipe calls for fresh or spinach)*
1 tablespoon lemon juice
Salt
Items * are ones that I adjusted (although I doubled the recipe also)
Directions
Heat oil in a large pot. Add cumin and jalapeno. When cumin sizzles, add the onion and sauté on medium heat until the onion is soft. Add the ginger/garlic paste and cook 2 more minutes.
Add the lentils and turmeric. Stir.
Pour 6 cups of water into the pot and bring all to a boil.
Reduce the heat and simmer until the lentils are cooked, about 15 minutes.
Add the dried fenugreek and stir.
When the soup is almost cooked through, add the lemon juice and salt to your taste. Stir again.
What I learned:
If you cook the lentils too long, they become mushy, they don't taste bad but are just mushy
This recipe really tastes good served over rice
Don't be afraid to adjust the spices. Play, play and play
Enjoy!
Click here to view the original recipe.